Providence, RI - In an exclusive national interview published today by The Daily Signal, the news operation of the prestigious Heritage Foundation, a prominent Rhode Island surgeon tells his story about how the state's Department of Health (RI DOH) has unfairly shut down his vital practice, denying him any form of due process.
In a misguided and ironic twist, Dr. Stephen Skoly, a private-practice surgeon who for decades has provided provided top-rate emergency medical services for the RI DOH as the only contractor in is field, now sees that same DOH seeking to destroy his practice.
Dr. Skoly, a maxillo-facial and oral surgeon and chairman of the Rhode Island Center for Freedom and Prosperity, has the tests results in-hand to prove he has developed high levels of naturally acquired immunity to Covid-19. Skoly, who weeks ago made public his decision to not comply the state's October 1 vaccination mandate for healthcare workers, also based his decision on his personal medical history as well as his principled belief in individual liberty.
In the Daily Signal interview, Dr. Skoly describes how he has been denied a hearing or any form of due process since the RI DOH "compliance order" was issued on October 1. Also interviewed was the Center's CEO, Mike Stenhouse, who stressed that along multiple fronts, Ocean State health officials have failed to adequately support any of their many pandemic mandates with the requisite "science" or research data.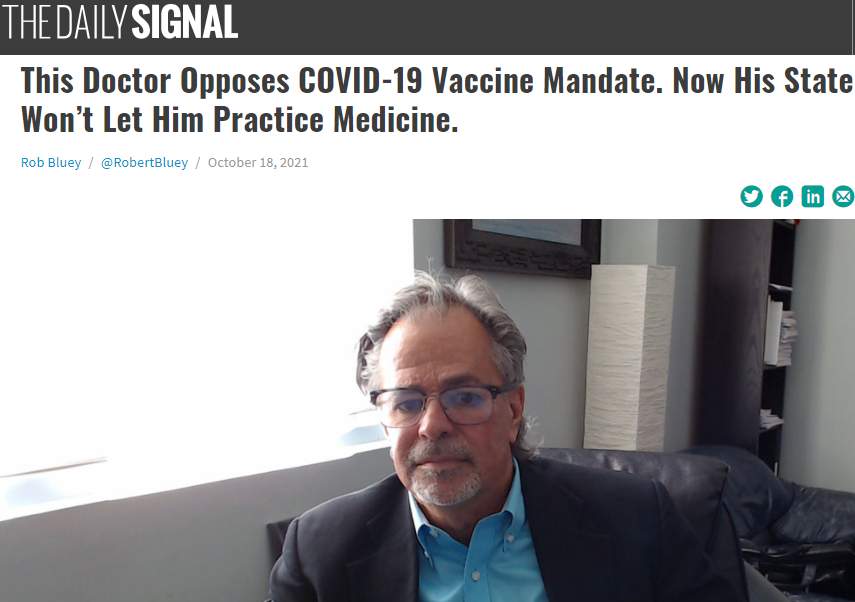 The Center has recently received copies of communications to RI DOH from doctors who work at state-run facilities, pleading for Dr. Skoly to be able to resume care of the state's own wards, many of whom are now suffering from lack of critical care.
Not only is the RI DOH denying due process to Dr. Skoly, but they are also scheming to side-step the prescribed regulatory "Board of Examiners" hearing process, such that his case will eventually be heard by some specially-formed and rigged emergency panel.
In the interview, Skoly describe how, currently, the RI DOH allows only a very narrow range of conditions as viable contraindications for Covid-19 vaccinations.

In light of this compelling interview with Dr. Skoly, the Center renews its call for the Department of Health to include natural immunity as an allowed exemption for any Covid-19 vaccine mandate.
While the Center opposes government-imposed mask and vaccine mandates, the data clearly demonstrates that "natural immunity" is an important policy consideration; and that the existing RI DOH healthcare worker vaccine mandate, for as long as it is allowed to legally stand, must be immediately modified (as the science overwhelmingly suggests) to include "natural immunity" as an approved case for exemption.

Earlier this month, based on analysis of state and international research data, as performed by Dr. Andrew Bostom, in support of a conclusion that has been publicly advanced by a growing host of nationally prominent immunologists, the RI Center for Freedom & Prosperity (Center) called on the Rhode Island Department of Health to include "natural immunity" as an allowed "contraindication to vaccination" on the official RI DOH medical exemption form.
In the Center's policy brief published by Dr. Bostom, an adjunct medical scholar to the Center and a Brown University credentialed epidemiologist, when assessing the benefits and risks of natural immunity to Covid-19 as compared with immunity from the vaccine, Bostom joins an increasing number of medical professionals and institutions in concluding that the body's natural immune system provides a more robust and longer lasting protection against Covid-19 than do the currently offered vaccines.
Citizens can express their support for Doc Skoly by signing a petition on the Center's website at RIFreedom.org/DocSkoly.